Kangana Ranaut Denies Overkissing Vir Das in Revolver Rani, Drags Hrithik Roshan into the Mix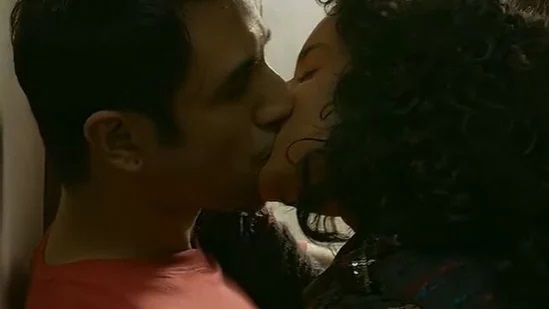 Kangana Ranaut and Vir Das shared the screen in Revolver Rani (2014), a crime comedy-drama film penned and helmed by Sai Kabir.
Actor Kangana Ranaut has responded to a report which claimed that she kissed Vir Das in Revolver Rani allegedly making his lips bleed. Taking to Instagram Stories on Sunday night, Kangana also spoke about actor Hrithik Roshan.
Kangana post about Vir Das
Kangana Ranaut shared a screenshot of the report. She wrote, "Hrithik Roshan ke baad maine vichare Vir Das ki izzat loot li (After Hrithik Roshan I assaulted poor Vir Das)?? Yeh kab hua (When did that happen)?? (laughing, face with tongue and face with hand over mouth emojis).
Kangana & Hrithik's feud
Hrithik and Kangana were caught up in a huge legal war and controversy over a couple of years, around 2016-2017. While she claimed that they dated, Hrithik has always denied it.
About Revolver Rani
Kangana and Vir featured together in Revolver Rani (2014). The crime comedy-drama film was written and directed by Sai Kabir. The film also stars Piyush Mishra, Zakir Hussain and Pankaj Saraswat among others. It is a satirical love story set against the backdrop of politics.
Kangana shared the post a few hours after she attended the baby shower ceremony of her sister-in-law. Her brother Aksht Ranaut and his wife Ritu Ranaut are expecting their first child. Kangana shared a string of pictures from the ceremony. "Sharing some precious moments from Ritu Ranaut's Godbharai…Our hearts are full and we all are eagerly awaiting the arrival of Baby Ranaut … thanks for all your well wishes and blessings," Kangana captioned the post.
Kangana's upcoming projects
Kangana will be seen as an Air Force Pilot in Tejas. The film revolves around the extraordinary journey of Tejas Gill, a pilot, and aims to inspire and instil a deep sense of pride in the valiant soldiers who tirelessly defend our nation, confronting numerous challenges along the way. Written and directed by Sarvesh Mewara, the film is all set to be in cinemas on October 20, 2023.
Apart from this, Kangana will be next seen in the upcoming period film Emergency in which she will be seen portraying the role of late Prime Minister Indira Gandhi. Emergency, which marks her first solo-directorial film, also stars Anupam Kher, Mahima Chaudhry, Vishak Nair and Shreyas Talpade in prominent roles.
Disclaimer: Except for the headline and synopsis, this story has been taken from the HT News Service