Across her remarkable career, Divya Dutta has seamlessly transitioned between Bollywood, Hollywood, and Punjabi cinema, fearlessly embracing diverse roles that demand a spectrum of emotions. Here are some of her standout films, reinforcing her status as one of the industry's finest.
Traffic (2016)
Watch it on Disney+ Hotstar 
Traffic is a story that weaves together a diverse ensemble of characters, each hailing from distinct backgrounds and confronting a variety of challenges, all brought together by a shared mission. These individuals are richly layered with their own flaws and imperfections, and the story revolves around their collective journey of overcoming these hurdles and persisting until the very end.
In this gripping tale, Divya Dutta takes on the role of 'Maya.' The film is set against a backdrop laden with heavy emotional baggage, which poses a considerable challenge for the actors involved. However, for Divya, the complexity of the character was no obstacle; she fully immersed herself in the role, contributing significantly to the film's success, ultimately transforming it into a cinematic triumph.
Stanley Ka Dabba 
Watch it on Amazon Prime
"This film unravels as a poignant and heartwarming narrative, drawing viewers into a young child's life navigating the challenges of a new school environment while coping with the profound loss of both parents. In this emotional journey, Divya Dutta shines in her role as a teacher, Ms. Rosy, infusing the character with warmth and authenticity.
Ms. Rosy's connection with Stanley, the film's young protagonist, is a pivotal element that elevates the story. Dutta's portrayal captures the essence of this teacher-student relationship beautifully, adding depth and richness to the film's emotional fabric. Through her performance, she not only enhances the movie's overall quality but also makes a lasting impact on the hearts of the audience, turning this simple and heartwarming tale into an emotionally resonant on-screen adventure."
Bhaag Milkha Bhaag
Watch it on Prime Video
While the film may primarily be a biography of Milkha Singh, it also beautifully delves into his profound bond with his sister, making it a heartfelt tale of sibling connection. Divya Dutta takes on the role of Milkha Singh's sister, and her portrayal adds a significant emotional dimension to the narrative. Her performance garnered exceptional feedback and received widespread acclaim, contributing to the movie's success.
Divya Dutta's compelling portrayal breathed life into the character of Milkha Singh's sister, capturing the nuances of their relationship with authenticity and depth. Through her acting prowess, she vividly depicted his sister's pivotal role in his life's journey. This transformation of the film into a genuine brother-sister story was not only a testament to Divya Dutta's talent but also a testament to the enduring power of family bonds portrayed on the silver screen.
Shaheed-E-Mohabbat Boota Singh
Watch it on Prime Video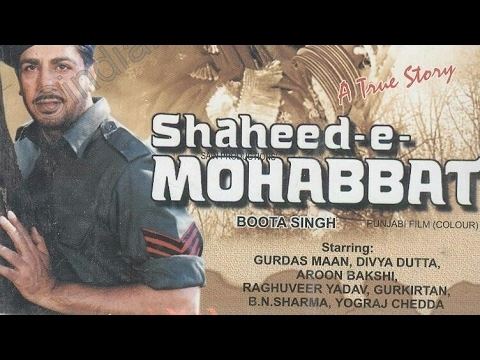 This cinematic masterpiece draws its inspiration from a poignant real-life love story that unfolded against the backdrop of the tumultuous partition of India. Divya Dutta takes on the role of Zainab, a Muslim girl whom Boota Singh, a Punjabi man, rescues during the harrowing times of partition. Their connection deepens into a profound love, leading them to tie the knot with dreams of a blissful life together. However, fate has a different plan in store.
As the narrative unfolds, it is evident that the circumstances are far from what they had envisioned. This heart-wrenching tale of love, tested by the trials of history, resonated deeply with audiences and critics alike. It's worth noting that the film's exceptional storytelling and portrayal earned it the prestigious National Award for Best Punjabi Feature Film, cementing its status as a remarkable cinematic achievement.