Jimin cries in Insta reel, V and J-Hope react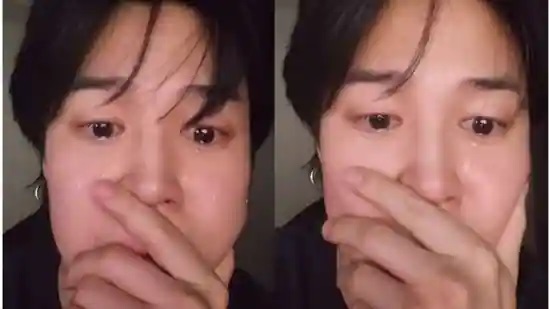 In a recent video, Jimin sobs while indulging in spicy food, and BTS fans are calling it an Oscar-worthy performance. J-Hope and V, two group members, also shared reactions.
BTS fans teased group member Jimin for being 'a good actor' after he shared a video in which he cried while feasting on spicy food. Taking to Instagram Reels, Jimin posted a clip in which he kept his hand over his mouth while tears started streaming down his face.
Jimin's Insta reel
The BTS singer also gave a glimpse of the food he ate–fried chicken and ramyeon. As the video continued, Jimin was seen puffing his face while he made a face and shed 'artificial tears'. Sharing the clip, Jimin added the hashtags–J-Hope, On The Street, chicken, ramen, and artificial tears.
J-Hope and V's reaction
Jimin also added J-Hope's new song On The Street as the background music. Reacting to the post, V aka Kim Taehyung commented, "I was going to post it but on your birthday." J-Hope's comment read, "You put this up?" In the clip, Jimin wore a black T-shirt.
Netizen's reaction to the post
BTS ARMY took to Twitter to share the videos and teased Jimin. A fan wrote, "He is going to be a good actor I can see the future lol. Also, we finally saw his wall and table." A tweet read, "Handing Jimin his Oscar after he scared me." "Next time someone says ARMYs are dramatic imma show them this," said a person on Twitter.
"My heart literally dropped, he is so unserious. I love him," read a comment. "Give him an Oscar. I need to see actor Jimin," tweeted another fan. "Jimin knowing how to make reels and he unleashes this, we are in such danger. It's over for us," said another person.
J-Hope latest collaboration with J Cole
BTS rapper J-Hope's solo single On The Street featuring rapper J Cole released last week. The song comes after BigHit Music confirmed that he has started his military enlistment process. In a statement posted on Weverse, the agency said the singer has applied for "the termination of his enlistment postponement". "We would like to inform our fans that j-hope has initiated the military enlistment process by applying for the termination of his enlistment postponement," the statement also read.
Jimin's recent projects
Jimin recently joined hands with Big Bang member Taeyang for their song Vibe. Previous to this, Jimin collaborated with Ha Sung-woon on the track With You for the K-drama Our Blues. BigHit Music on Monday officially released Jimin's song, Christmas Love.
Disclaimer: Except the headline and synopsis, this story has been taken from the HT News Service.