Suga goes candid on Jimmy Fallon Show, shares his pre-performance ritual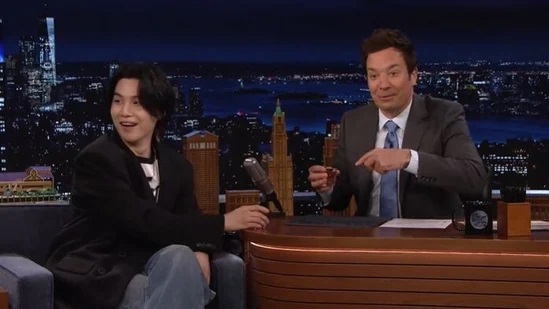 Suga revealed BTS' custom of consuming alcohol prior to performances on the Jimmy Fallon show. Moreover, he talked about his love for basketball and also tried playing Korean traditional instrument Haegeum.
BTS member Suga made his solo debut on The Tonight Show Starring Jimmy Fallon and spoke about his new album D-Day. Taking to its YouTube channel, The Tonight Show shared a video in which Suga also talked about his fellow BTS members RM, Jin, J-Hope, Jimin, V, and Jungkook. The rapper also revealed that he along with the BTS members always takes a 'shot' before their concerts.
Suga revealed her emotions and thoughts about his album and global tour
When Jimmy Fallon asked Suga how he feels about the album release and his global tour, the BTS rapper said, "I'm in the middle of a tour, so I'm a little bit lost. I wasn't able to see all of the results, but I am glad ARMY is loving my music." Jimmy asked Suga about the time he delivered food and how good was he at his job. Suga replied, "I was very good at it. I was good at driving."
Jimmy also talked to Suga about the rapper being an NBA ambassador. The rapper laughed and said, "When the NBA first called me, I wasn't sure why they called. Why would they need an ambassador? Isn't the NBA more famous than I?" At this Jimmy and the audience shouted 'no'.
Suga also revealed the inspiration behind his stage name
Suga also spoke about wanting to become a professional basketball player when he was young but added that he wasn't 'tall enough'. When asked if he is 'the best basketball player in BTS', he laughed and said, "Are you kidding me? I don't think any of the other members know the basketball rules." He also said that he came up with the name 'Suga' using the first two letters each from the words 'shooting guard'.
When asked what D-Day means to him, Suga said that it has several meanings. "I named this album D-Day to liberate myself from all the shackles in my life." Explaining the meaning of his song Haegeum, Suga said that it stands for a Korean traditional instrument. It also means 'liberation from the banned'. Suga also tried playing the Haegeum but couldn't.
Suga and Jimmy Fallon took a shot of whiskey on the show
At the end of the clip, Jimmy asked if Suga follows any tradition or superstition before performing on stage. The rapper said, "I actually take a shot of whiskey with the band before I go on stage. For real. We take a shot together. Then we go up on stage." At this, Jimmy brought two glasses and they drank. Suga also performed his song Haegeum on the show. He also waved at his fans and blew kisses at the end of his performance.
Disclaimer: Except the headline and synopsis, this story has been taken from the HT News Service