Rema gets tutored by Kapil Sharma on "The Kapil Sharma Show"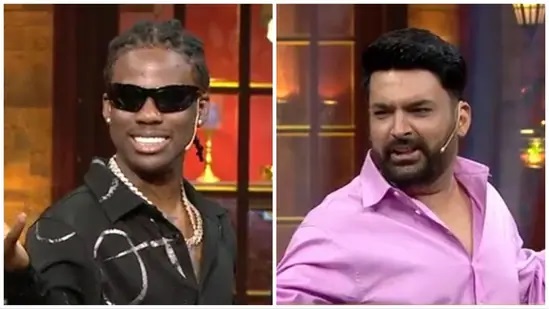 In a sneak peek of the upcoming episode, Kapil Sharma was seen telling "Calm Down" singer Rema to recite the iconic dialogue from Shah Rukh Khan's film.
Singer Rema, who is best known for his viral song Calm Down with Selena Gomez, will be the next guest in the upcoming episode of The Kapil Sharma Show. Ahead of the full episode that will be released this week, Sony shared a promo on social media where Rema was seen matching steps with Kapil, who even tried to teach him a famous Shah Rukh Khan dialogue from Dilwale Dulhania Le Jayenge.
Details about the promo
The promo, which was shared on Instagram, opens with the announcement that this week on the show, international singer Rema will be the guest. Some other guests include Indian singers Shankar Mahadevan, Shaan, Sukriti Kakar, Prakriti Kakar, Romy, Shahswat Sachdev, Nikita Gandhi; and the pair of Kabir Bedi and Pooja Bedi. The promo teases a snippet of Rema matching steps with Kapil Sharma to Calm Down, where Kapil asks him "How are you?" to which he says, "I'm good!" Kapil then quips, "Bula toh liya English banda, baat kya karu mein? (Now that I have called someone who speaks in English, what will I speak?)"
Kapil tried teaching Rema, iconic Hindi dialogue
Then Kapil tries to teach Rema the iconic Hindi dialogue from Shah Rukh Khan's Dilwale Dulhania Le Jayenge, where he begins, "Badey badey shehron mein…(In these large cities)" to which Rema looks back in horror, which makes everyone erupt in laughter. Rema then finishes the entire dialogue with Kapil, "Badey badey shehron mein aisi choti choti baatein hoti rehti he (In these large cities, these little words occur oftentimes)". Rema is also seen dancing to Main Naagin Dance with everyone on the show.
The frenzy around the show
While Rema is dressed in an all black outfit, Kapil opted for a pink shirt and a pair of pants. Kapil had earlier taken to his Instagram to post a small clip of them dancing to the song Calm Down from the show, and wrote in the caption: "Can't calm down bcoz #rema is here @heisrema #calmdown #thekapilsharmashow."
The singer is currently amid the Rema Calm Down India Tour which started earlier this month. At a recent concert in Mumbai, Nora Fatehi was seen joining him on stage to dance along to her hit song Naach Meri Rani.
Disclaimer: Except the headline and synopsis, this story has been taken from the HT News Service