As 'The Kardashians' make a comeback with more drama, Kim and Khloé Kardashian respond firmly to critics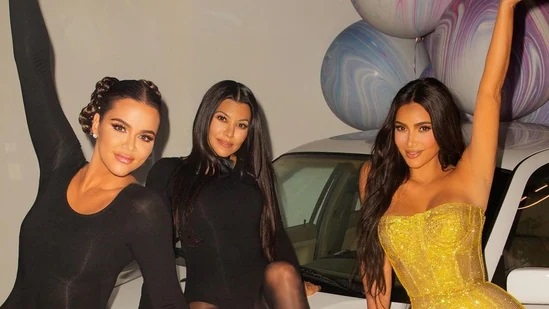 Amidst her divorce from Kanye, Kim candidly discusses her dating experience with comedian Pete and reflects on the difficulties of establishing a new relationship in the public eye.
In a no-holds-barred episode of The Kardashians, Kim Kardashian and Khloé Kardashian addressed the criticism surrounding their reality series and laid it all out for their viewers.
Know the Kardashians better in no-holds-no barred episode
Kim, the aspiring attorney at 42, didn't shy away from reading a review that questioned Khloé's involvement in her tumultuous relationship with Tristan Thompson during season 2. Kim defended her sister, pointing out that they captured every moment and shared it with their audience.
Khloé, 38, opened up about her decision to keep her second child's arrival via surrogate a secret until the birth. She explained that she was vulnerable and struggling with the paternity scandal surrounding her ex-boyfriend. Khloé emphasized that despite the challenges, she has always been open and vulnerable on the show, showing her true self.
Kim also addressed the absence of her ex-husband Kanye West from season 2. She clarified that it wasn't because she didn't want to include him but because Kanye himself chose not to be on a reality show. Kim shared that she has been open about their coparenting struggles but respects Kanye's wishes regarding his involvement in the show.
The beauty mogul further revealed her efforts to incorporate her new flame, Pete Davidson, into the show, highlighting the complexities of dating while living life on a reality show. Kim acknowledged that they had discussions from the beginning about the challenges of dating in the spotlight but ultimately embraced the opportunity to share their relationship with the viewers.
When Scott Disick questioned whether they ever considered ending the show, Kim passionately expressed her love for the series and its potential to help people going through similar experiences. She and Khloé view the show as a platform to connect with their audience and provide real content that resonates with others.
Keeping Up With the Kardashians ended in 2021
Despite the conclusion of Keeping Up With the Kardashians in 2021, the Kardashian-Jenner family made a groundbreaking deal with Hulu to continue creating new content. The recent confirmation of a renewal for 20 additional episodes proves that The Kardashians are here to stay and continue captivating audiences with their rollercoaster lives.
As the drama unfolds and the cameras keep rolling, fans can expect more juicy moments, real emotions, and unexpected surprises from the Kardashian-Jenner clan in the upcoming episodes. Stay tuned for the latest revelations, controversies, and unfiltered glimpses into their glamorous yet complicated lives.
Disclaimer: Except the headline and synopsis, this story has been taken from the HT News Service