Will Manoj Bajpayee's "Sirf Ek Bandaa Kaafi Hai" be released in theaters? The director expresses hopes for the film's wider reach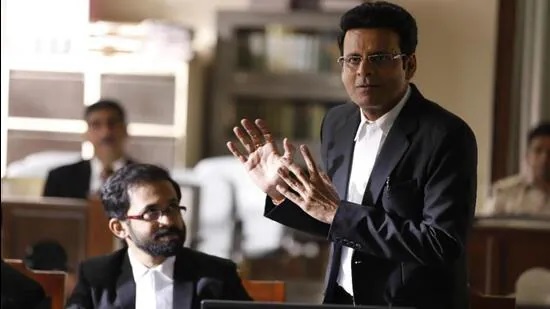 Following its release in the digital realm, there are strong indications that Manoj Bajpayee's "Sirf Ek Bandaa Kaafi Hai" may make its way to theaters. Director Apoorv Singh Karki remains hopeful and eagerly anticipates the outcome.
Ever since Manoj Bajpayee-starrer Sirf Ek Bandaa Kaafi Hai began streaming, the legal drama has been widely appreciated, so much so that it may get a theatrical release.
Sources reveal that the movie might see a theatrical release
A source close to the film says the web streaming platform along with a studio is actively having conversations to chart out the future path for the film. "It will be the first time that a film will be released in the theatre after its OTT premiere, which is why there is a lot of planning going on. If everything falls in the right place, it will change the way people look at content for the web space, and even stop looking at the medium as a threat," mentions another source.
Apoorv Singh Karki's statement
On this development, the film's director, Apoorv Singh Karki, he expressed his excitement about the ongoing discussion, as it instils hope among people to trust the content.
"At the moment, the discussions are going on, and these are internal talks between the streaming platform and studio. While the decision is in their hands, it is something that I am really forward to," Karki tells us.
He continues, "And it is an exciting sign because such a discussion is happening for the first time ever since we saw the rise of the streaming space amid the pandemic. With the film now opening in the theatres, it will take the message to a wider audience, which is the most important thing for a director. Jahan jahan film nahi ja paayi hai, woh wahan jayegi".
The filmmaker believes the move, if it comes through, will be a "positive as well as beautiful thing" for the industry at large. "It will change the way we perceive OTT content and content made for theatres, and not look at it as a threat. It shows that both are important mediums for storytelling," he adds.
About the movie
The courtroom drama is inspired by true events, with Bajpayee in the role of a lawyer taking up a quest to bring justice to the girls who were wronged by a godman.
Concluding on a hopeful note, Karki says he will be "super happy" if the film goes to the big screen now. "Kamal ka feeling hoga. Moreover, it will be an important thing for the film to take the message to a wider audience. And it will reach more people and will find new audiences in interior areas with theatre release," he ends with hope.
Disclaimer: Except the headline and synopsis, this story has been taken from the HT News Service