Here's why Amitabh Bachchan deviates from the usual practice of meeting fans outside Jalsa barefoot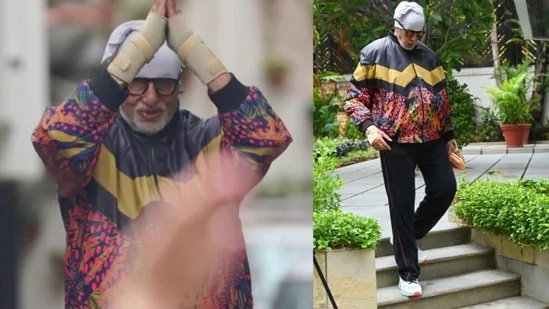 Every Sunday, hundreds of fans gather outside Amitabh Bachchan's bungalow, Jalsa, eagerly awaiting a glimpse of the legendary actor, who never fails to acknowledge their presence.
Amitabh Bachchan meets and greets his fans, who congregate to catch a glimpse of the actor every Sunday outside his bungalow Jalsa. On June 25 too, Amitabh met his sea of fans. However, this time, he broke his ritual of meeting the fans barefoot. Taking to his blog on Sunday, Amitabh revealed why he met his fans wearing shoes on Sunday.
Amitabh on not wearing shoes
Amitabh wrote, "… and a big difference today .. SHOES .. shoes because, shooting bare feet, whole of yesterday, gave rise to a rise in what is generally referred to bumps in the foot .. named blisters .. a similar incident earlier had incapacitated the body for long so taking precaution .. so the temple is still the same, and next time round it shall be revered .. (folded hands emoji)."
He also said, "So yes where were we .. aah yes the Sunday without shoes .. or rather without them .. yes yes yes .. they shall be without the next time .. So .. oh there we are again .. on 'so' .. no really .. so I need to go and study my dialogues and lines for the morrow .. for the shoot ..and there is the traditional."
Amitabh also wrote, ".. a provision for drinking water .. with a bit of lime to quench the thirst of them that come to the gates of the J .. the GOJ .. 2 on each side .. and paper glasses to maintain hygiene .. !!"
Amitabh statement about wearing shoes
Earlier this month, Amitabh had shared why he goes bare feet to meet his fans. He wrote, "Some sarcastically commented on a few occasions .. 'who goes out wearing socks and bare feet' .. I say ..'I DO' ! .. you got a problem with that !!?? 'You go to the temple bare feet .. my well-wishers are my temple !!'"
He had also added, "Comfort be the elements of use in these times of uncared for attitudes, breaking away from any tradition that could have been imposed .. Shoes .. The comfort of the 'sneakers' or whatever else they may be called .. the nikes, the other brands, all .. now the formal wear irrespective .. that black patent leather, that polished bright, whatever, has disappeared .. the white-bordered comfort wear be the IT .. !"
Amitabh's upcoming projects
The actor was last seen in the family entertainer film Uunchai along with Anupam Kher, Parineeti Chopra and Boman Irani. Helmed by Sooraj Barjatya, the film got positive responses from the audience. He will next be seen in Project K alongside Deepika Padukone and Prabhas. He will also be seen in Ribhu Dasgupta's next courtroom drama film Section 84.
Disclaimer: Except the headline and synopsis, this story has been taken from the HT News Service